HWedge 4 Club Set
4SET-2017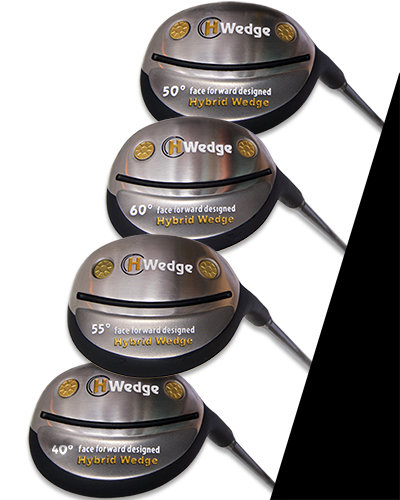 Take advantage of a complete 2017 HWedge set including our 60º, 55º, 50º and new 40º hybrid wedges. Our new 40º is a classic "chipper" for those bump and runs, "texas wedge" type putt strokes where you want to get the ball on the green and running quickly. Plus it is an 7-8 iron replacement for many people to hit higher approach shots. The 50º gap wedge is awesome for long bunkers, shots from 90 - 120 yards for average golfers. Great for lower bump and run shots. The 55º is your sand wedge, perfect for recovery from bunkers. Hit high pitch shots with spin, enjoy the game as you score and get out of deeper grass around greens. The 60º Lob Wedge is perfect for short pitch shots within 60 yards, forced carries and recovery from deeper bunkers. Get all four hybrid wedges at a discount today.
All HWedges come with a 30 day money back guarantee and are USGA Conforming.
Please note: All upgrades don't follow our money back guarantee. If you upgrade shafts, grips, length, this all voids our Warranty. There will be a 20% re stocking fee.

Model:4 HWedge Set
MPN:4SET-2017
Club Type:Hybrid Wedge
Shaft Material:steel or Graphite
Flex:option
Country/Region of Manufacture:China
Shaft
Graphite (Regular) (0)