Black Magic 60º Lob Wedge
60DCWRH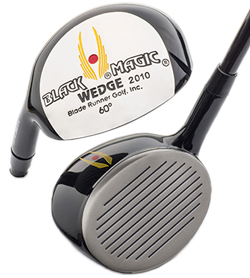 The Black Magic 60° Lob Wedge removes all the guess work out of those difficult short shots around the green. No need to lay the face open for those flop shots or bunker shots. You can get fast lift on shots from bunkers to tight lies with a square face.
All orders will start shipping 10-24-2016
And yes, we ship to Australia!
To see how it works, go to "How it works"
All wedges conform to USGA Rules
Please note: All upgrades don't follow our money back guarantee. If you upgrade shafts, grips, length, this all voids our Warranty. There will be a 20% re stocking fee.
Model:60º Lob Wedge
MPN:60DCWRH
Club Type:Hybrid Wedge
Shaft Material:Steel
Country/Region of Manufacture:China