Black Magic 52º Gap HWedge
52DCWRH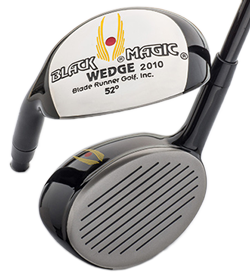 Players who like to take the same swing on full wedge shots need a Gap Wedge to get that yardage left between your sand wedge and pitching wedge. Our 52° Gap Wedge offers all the shots around the green while allowing you yardage needed on your full shots.
All orders will start shipping 10-24-2016
And yes, we ship to Australia!
To see how it works, go to "How it works"
All wedges conform to USGA Rules
Please note: All upgrades don't follow our money back guarantee. If you upgrade shafts, grips, length, this all voids our Warranty. There will be a 20% re stocking fee.
Model:52º Gap HWedge
MPN:52DCWRH
Club Type:Hybrid Wedge
Shaft Material:steel or graphite
Flex:option
Country/Region of Manufacture:China
Polara Golf Balls
Ultimate Straight (9.99) XD (9.99)