Black Magic 4 Club Set
4SETDCWRH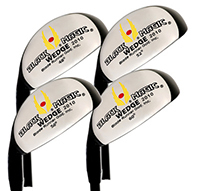 Set of 4 Black Magic Wedges New Grooves 60° LW, 52° GW, 48° PW'. Includes Premium Head Covers. When choosing lofts, check the 4 you would like on the right side.
And yes, we ship to Australia!
To see how they work, go to "How it works"
All wedges conform to USGA Rules
Please note: All upgrades don't follow our money back guarantee. If you upgrade shafts, grips, length, this all voids our Warranty. There will be a 20% re stocking fee.
Model:Four Hybrid Wedge Set
MPN:4SETDCWRH
Club Type:Hybrid Wedge
Shaft Material:steel or graphite
Flex:option
Country/Region of Manufacture:China
Check Which 4 You Want
37 (0) 48 (0) 52 (0) 56 (0) 60 (0)