50° Gap Wedge
50-2017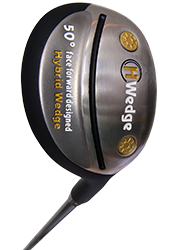 The 50° HWedge in our opinion is the best club in the HWedge Line. This wedge excels out of the sand, tight lies, heavy rough and any situation you put your self in. The reason we feel this is the best club is because of all that you can do with this HWedge. Open it up to work like a 56° or you can choke down and swing smooth to hit it 56° yardages. You will have to see for yourself. This HWedge is a Game Changer.
The leading edge of the face improves lift enhancing performance on soft pitch and lob shots.
The face forward design makes our wedges impossible to shank.
The new sole design allows you to open the face and prevents digging into the ground or sand
All of our wedges conform to USGA rules, so feel free to play in any tournament or scramble.
Swing Weight of D2. 0 Bounce angle at impact. Standard length is 36". Custom orders are available (please call) or fill out your custom request in the "order comments" section at checkout.


All HWedges come with a 30 day money back guarantee and are USGA Conforming.
Please note: All upgrades don't follow our money back guarantee. If you upgrade shafts, grips, length, this all voids our Warranty. There will be a 20% re stocking fee.

Model:50º Gap HWedge
MPN:50-2017
Club Type:Hybrid Wedge
Shaft Material:steel or graphite
Flex:option